Robotic Welding: Is It Worth it? 
October 3, 2019
admin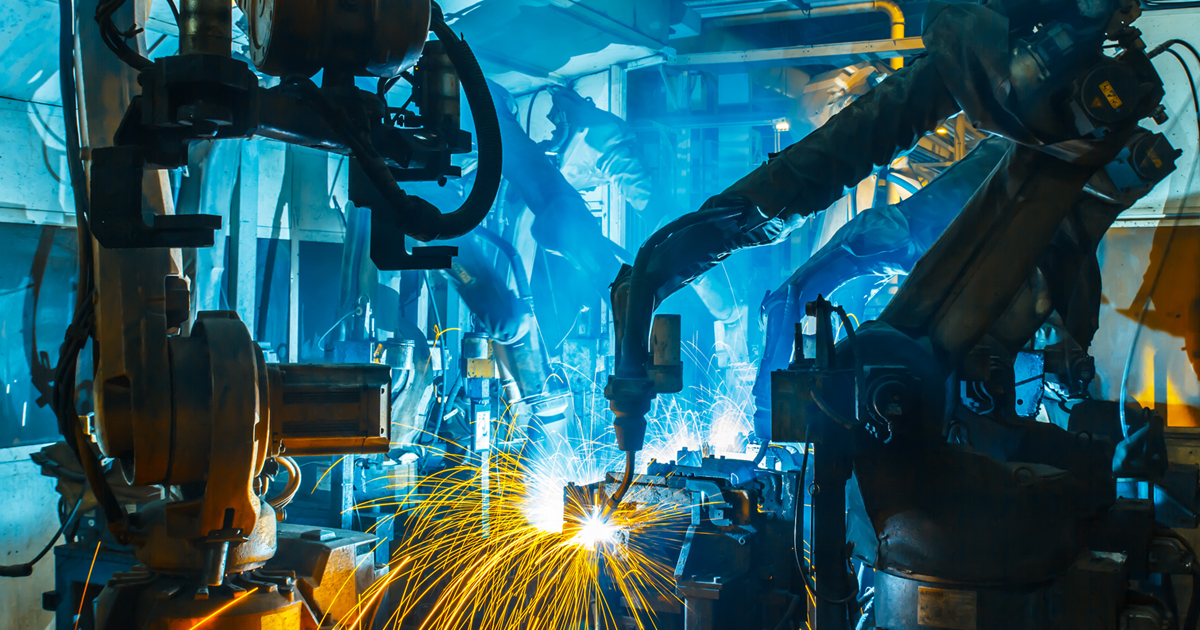 Did you know the first workplace robot was designed in the 1950s and was known as the Unimate? The first Unimate model was sold to vehicle manufacturing giant General Motors in 1960 and worked on die casting and spot welding!
But why use a robot for welding at all? In this guide, we'll discuss why robotic welding is so useful in the industry and whether the costs of the robotic units are worth the investment.
What is Robotic Welding?
Robotic welding is often considered the rival of manual welding. However, robotic welding has actually grown in popularity as a result of the unavailability of welding personnel. Out of all robotic applications used in the workplace, robotic welding units make up 29% and with increasing production demands and dropping human involvement in this industry, this percentage will probably continue to rise.
The robotic welding unit, also known as a robot welding cell, is made up of a combination of components. These parts include those that actively complete welding tasks as well as accessories and safety features that improve the operation of the machine.
Most people have the idea that only big businesses need robotic welding because these welding systems appear so large and grand. However, companies of all sizes can improve their production times and business costs with these machines.
Robotic welding systems are most commonly used for resistance spot welding and arc welding for high quantities of products. These types of welding feature strongly in the automobile industries and any business with large production lines. But what makes robots so useful in these environments?
Statistically, human workers only have 50% arc-on time on a good day and this is subject to decrease. In contrast, robotic welding units have about 75% arc-on time and can increase for materials with longer seams. Humans are also…well, human and need to do human things like sleeping and eating.
Combined with no necessary human downtime, welding units are also not subject to human error or human limitations. Each movement of the robot arm and weld is precise, even on the most complex builds if they are configured correctly. This is consistent too because it does not decrease with fatigue.
By reducing errors, less material is wasted and by increasing the speed and precision (and reducing the spatter) of the weld, fewer consumables are burnt up. Combined, this has a significant positive impact on cost output and a strong improvement in productivity.
Another feature of robotics is its capability to withstand heat. It's no mystery that welding is a job with risks (the iconic pull-down masks don't exist for fun). Workers are exposed to high heats, airborne gases, molten materials and volatile objects. Robotic welding automation machines reduce the direct involvement of human workers, keeping them out of harm's way.
How to use a welding robot
Humans are not completely removed from the usage of robotic welding systems. To use a robotic welding unit, programs are inputted via the teach pendant and saved to the controller, telling the robot what to do. These programs move the welding robot and dictate the movement of the torch on the end of its arm, placing it exactly where it needs to perform tasks.
Robotic welding needs to be supervised constantly and maintained by a trained operator. If no one in a company's employment has worked with robotic welding before, it's advised to hire someone certified for this skill.
A trained technician will be able to resolve any on-site issues there and then while monitoring the capability of the machine for specific tasks. This helps reduce downtime and ensures smoother running.
The below outlines the process of a welding robot at work:
A WORD OF CAUTION
We must just add a word of caution regarding the work holding jigs and the co-ordination of implementation.
The jigs are the make or break of a successful robotic welding system and can cost more than the robot itself. These jigs are normally designed and manufactured by an independent party.
The robot manufacturer generally does not get involved with the welding process itself.
The welding machine manufacturer generally does not get involved with the actual robots.
The integrator knows about robots and jigs but generally not the actual welding process.
This can make backup and support complex, the coordination of all four parties above is essential.
How much are Robotic Welding Machines?
Robotic welding machines are not a piece of equipment you can invest in if you've pulling pennies from the back of your sofa. However, they are a machine you can invest in if you want to improve your profits for the future.
The price of robotic welding units will depend on the power and reach requirements of the system and the quality of its components as well as the advanced technology of its programming device. Despite a rather considerate initial payment, robotic welders work (24/7 if you need them to) to return your investment.
Robotic welding jigs can be manually loaded with components or loaded with another robot and is some cases a robot has been used to hold the components while another robot performs the welding operation.
Without mistakes, material wastage and downtime, these machines are cost-effective for the long term to get your welding projects completed in good time and at great quality.
Best Robotic Welding Systems
For the best results, you need the best systems. Global market leader Fronius are at the forefront of welding technology and welding robotic systems. With a presence in over eighty countries, Fronius machines are changing the face of welding worldwide with large investments into research and development.
That's why PWP take a huge amount of pride in providing our valued customers with units from this range that go above and beyond the call of duty for magnificent results.
From TIG systems to MIG Welding systems, through CMT & Plasma systems, the Fronius range of robotic welding systems provides solutions from simple to the sophisticated.
The following is a summary of the welding processes and their application to robotics:
MMA
The MMA welding processes is not suitable for robotic applications.
MIG Welding
MIG welding is a robust & tolerant welding process which lends itself to robotic applications.
CMT Welding
The CMT process is derived from MIG welding and gives even greater process robustness & tolerance. In some cases, the CMT process can replace TIG or Plasma welding especially for the robotic welding of aluminium alloys.
TIG Welding
TIG welding can be problematic in robotic applications, consistence arc starting is an issue and as the wire feed is a separate component to the torch, accesses to the work can be problematic. If the join is an outside corner and not requiring any filler wire (called an autogenous weld) the TIG welding process can be successfully automated using robots.
Plasma Welding
Plasma welding has many advantages over robotic TIG welding, stand-off tolerance, narrow consistent arc, pilot arc running continually making main arc starting much more consistent and reliable. The down-sides are the filler wire feeding has the same problems as TIG welding and the sophistication of the equipment.
Having said that, plasma welding is sometimes the only process that can make the welding high enough quality.
Resistance Welding
Resistance welding is very suited to robotic applications. Sometimes the work is moved by the robot in relation to a fixed resistance welding machine and other time the welding head is on the robot which manipulates it around the workpiece. Once again the jigging or fixturing of the workpiece is one of the largest factors ii successfully implementing a robotic setup.
Who uses welding Robots?
With welding, the options are only as limited as your mind can imagine. From Chevrolets to Crates, from flashy Ferraris to Fencing, welding robots are the solution for manufacturers and businesses looking to increase their productivity, safety and reduce their downtime and wastage.
Compared to other welding options, welding robots give an unrivalled precision and pace that is simply not paralleled by human beings on large scale jobs and production lines. Alongside human employees, welding robots can change the way your company succeeds and allow you to venture forward toward ideas you previously thought were impossible.
Where to buy welding robots?
PWP aims to help the Metal Fabrication Industry reach its full potential. We have an unwavering commitment to being a driving force for businesses everywhere that want to further their current system or discover the worthwhile investment of going robotic.
Our skilled team has extensive experience in the welding industry. This means everyone in our sales, administration, finance, store, and service departments are equipped to help you find the welding solution you seek. As a result, we are able to offer all-round assistance, advice and after-sales service.
So if you want to make improvements in your productivity or need more advice on why a robotic welding system is the best option for you, contact us today on 01234 345111 or email [email protected]
Bio of Author:
This article was written by Richard Fryer, a partner at PWP Industrial with 24 years of experience.
Passionate about supporting the professional welder and a demonstrated history of supplying products to the welding and fabrication industry, Richard is an invaluable asset to PWP Industrial and contributes toward the end goal of providing innovative solutions.